Huge Driver Database
MyPCDrivers supports more than 1,000,000 unique hardware devices, and it coninutes updating daily.


Ease of Use
We are believing the part of solution, not the problems, so ,in a nutshell, ease is the our priority. Judging this,  this product is designed easily to use initially. Unlike other "sophisticated" one in the same category, with this product ,only 3 steps to finish the whole job.


Compatible with Windows 7
You know, although it's long since the the release of Windows 7, lots of programs isn't support well with Windows 7. Luckily MyPCDrivers works well under Windows 7 system. Below you will find the screenshots of MyPCDrivers in Win 7.
Safe to Use
NO adware, spyware, or malware were found in this product according to my tests in my time. You can use it safely, and like the vendor said , "we respect your privacy." your privacy is totally safe too.


What are the system requirements?
Minimum:

Intel Pentium 3 500MHz or equivalent processor
At least 256 MB RAM
200 MB free hard disk space
Graphics mode 800x600, 16-bit colour
Internet Explorer 6
Microsoft Windows XP / Vista / 7
Active Internet connection

Recommended:

Intel Pentium 4 1GHz or equivalent processor
512 MB RAM
Minimum 200 MB free hard disk space (since space is also needed to download drivers)
Graphics mode 1024x768 true color (highest 32-bit)
Internet Explorer 7
Microsoft Windows XP / Vista / 7
Active Internet connection


This is why our database is always up to date.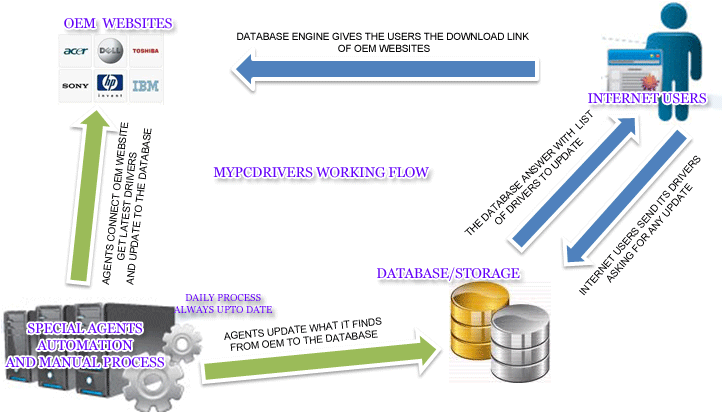 " I'd recommend the software, it's a good asset to have, and have found that it's quite easy to run and operate. It's not every day that I recommend something, especially if it's for purchase on the internet, but this program has done wonders for both my computer and the amount of time I spend working on it."

John Wicki - IT Engineer in Dallas

"I'm an IT technician and skilled in fixing computer issues such as registry errors, driver errors or speed problems. In my daily life, I have collected a lot of PC tools to solve those issues and also like to share them with you. Today I will demonstrate how to update or fix PC drivers with MyPCDrivers automatically and easily."

Peter Voicke - Washington DC